GrabBar_800x600.jpg
Hepco & Becker left the centerstand lifting handle accessible—a highly-appreciated detail!
FrontRight.jpg
LeftSide.jpg
The bags don't add much to the overall length of the bike.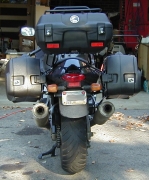 Rear.jpg
As on any bike with swoopy rear bodywork, the bags stick out.
Front.jpg
Perspective is playing tricks here. The bags are wider than the mirrors and the handlebars, even though they don't appear so in this view. They actually stick out about 4" farther than the mirrors.